Introduction
Hello and welcome to the newly revised Help Desk Guide entitled "How to: Submit a Help Desk Inquiry". A lot has changed since the last time this guide was released and rather then refresh the old guide via an edit we have decided it's best to deliver this and each and every other 'How to' guide as new guides.
Before Submitting your Inquiry
There are a three main areas you should always check before submitting an inquiry, as your question or questions may already be covered there. These three areas are the
deviantART Status Forum
, the
deviantART Inc. News
section and the +
faq
.
If you have checked these locations and you still have not found your answer, or the answer you have found is not clear enough, you may follow the steps listed below to help guide you in successfully sending a Help Desk inquiry.
Submitting your Inquiry

Step 1
- The first thing you will need to do is make sure you're logged in, once you're certain you are logged in you will need to click on the 'Help & FAQ' link, located in the footer of most deviantART pages. (Please also see
FAQ:860
to learn other contact points)


Step 2
- Once you have clicked the 'Help & FAQ' link you will be taken to the help page, otherwise known as the
FAQ
. Once on the help page you will need to click on 'Contact the Help Desk' from the left hand side menu.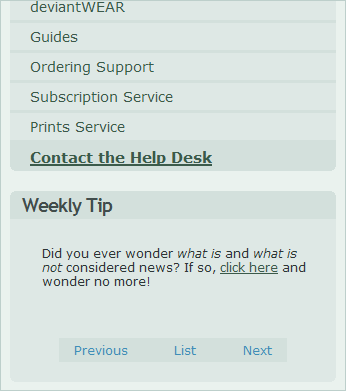 Step 3
- You will next be presented with the Help Desk contact form, from here you will need to the select the '
Category
' from the 'Category' drop down menu, that best suits your inquiry. In this guide we will select
"Bug Report"
.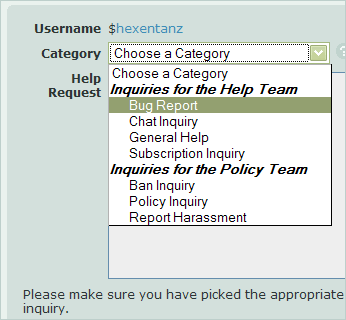 Step 4
- Once you have selected your Category you will need to type your message up in the field entitled "Help Request".
Example Message

---

Hello Ladies,

I cannot submit any art at this time as the category picker will not allow me to select any category!

----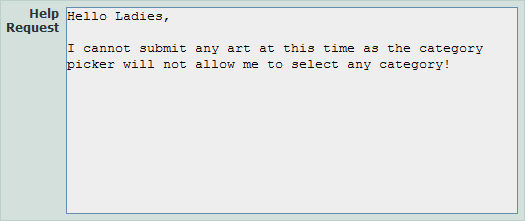 Step 5
- After you have typed up your inquiry, you may wish to review your message to make sure you have included everything. Do so by clicking on the button entitled
"Preview Help Request"
. Once satisfied with your message you will next need to click on "Submit Help Request". If your message has been sent to us successfully you will next be presented with a message of thanks.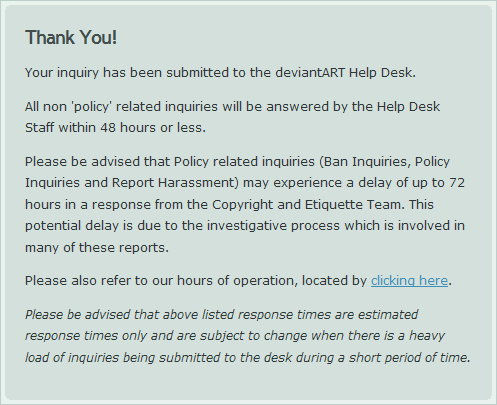 --
That's it, you're done!

You should now receive a response to your request from the Help Desk Staff within 48 hours or less, during the normal
Help Desk hours
.
Wait Hexe! I have not received a reply to an inquiry I have submitted some weeks or a month ago. What could cause this? It is very rare we will not answer an inquiry submitted to us but in the rare instance you have not received a response, please see
FAQ #215:
I have not received a response to my Help Desk Inquiry? What could be the reason or reasons for this?
Pstttt Hexe! This Guide is great and all but I have a problem not covered yet! I cannot login to the Help Desk because I have forgotten my password. Can I still contact the Help Desk? Yes you can, you may do so by emailing us @
help@deviantart.com
.

We hope you have found the above information helpful.

-----
Much

,
The Help Desk Team
`
hexentanz
, $
ewm
and $
y2jenn